---
---
Glen Ord
12 years
Distillery: Muir of Ord
Origin: Nothern Highlands
---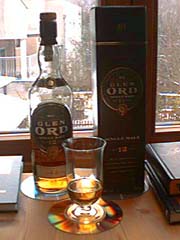 ---
General Remarks
Renamed several times (Muir of Ord, Ord, Glenordie, Glen Ord).
---
Visual Appearance
Almost golden. Green bottle with black label.
---
Its Nosing
Full, deep and a bit sweet. Reminds of a moist coniferous forest.
---
Its Taste
Very interesting. Several nuances passing by. Complex and simply good.
---
Score
Range is 0 to 100 (0 would mean awful, 100 means the very best)
(See my general remarks about score values.)
AM Score
Angelika gives 95 points.
rm Score
rudolf gives 80 points.
MJ Score
Michael Jackson gives 75 points.
---
Comments to arTm

Created: 23.11.1999 - Updated and generated from HyperCard: 07.01.2000
---
---